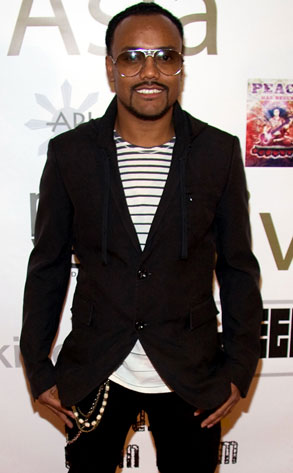 Apl's in mourning.
The brother of Black Eyed Peas mastermind apl.de.ap, otherwise known as Allan Pineda Lindo, was gunned down in the northern Philippine town of Porac, Pampanga.
Joven Pineda Deala was the youngest and purportedly favorite brother of apl, who was born in the Philippines and grew up in the barrio before he was adopted by an American and moved to the United States, where he eventually formed the Peas with will.i.am.
Per the Philippines Inquirer, Deala, 21, was sitting in his car outside his girlfriend's home at approximately 1 a.m. Tuesday when he was shot in the head by an unidentified gunman.
Police are still searching for a suspect and do not yet have a motive for the killing, though various media outlets have reported the murder may have been the result of a love triangle.
Apl, 34, is expected to fly to the Philippines to attend his sibling's wake and burial.
Courtesy of E!
I'm not a huge fan of Black Eyed Peas, but this is such a tragedy in the hip hop and Filipino communities! My thoughts and prayers go out to their family...